Some people struggle to find their true calling, while others are destined to follow a certain path. Such is the case with Chef Kevin Campbell, who shares with Thursday Food that his passion for cooking started at the age of 11. The only male in his household, he would watch keenly as his mother and grandmother prepared meals like roti and dahl for the family. His aunt Fay, who "was always making puddings", taught him how to bake, and he fell in love. Soon he was allowed to try cooking on his own, and found himself swelling with pride whenever he was complimented on one of his signature experimental dishes. It was only natural for him to study food and nutrition when he attended Petersfield High School, and his love affair with the culinary arts strengthened even more.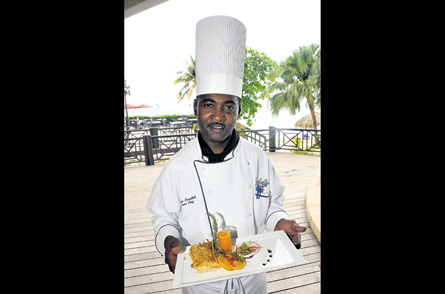 This took him to Hedonism II for a work experience internship, where he impressed the team and was hired on the spot as a cook in their Italian restaurant. After about a year, he heard of an opening for a room service cook at Sandals Negril, applied, and has been there for 11 years to date. It was there that Campbell really blossomed. So much so that the organisation sent him on a two-month stint at Epicus Culinary Institution in Italy, and naturally, he has continued to progress since. Today the 34-year-old executive sous-chef is living his dream, and has even bigger plans for the future. "You have to have a passion for what you do. When I prepare a meal, I enjoy it to the fullest and it shows. If your food isn't cooked with love, it won't taste good," Campbell opined. "I love to style food; I love everything I can do with food. Every day I ask myself what I would do if I weren't a chef. The answer... nothing; this is my passion."
We arrive at The Mill — Beaches Sandy Bay's main restaurant — and within an instant Patterson comes around to see us. "Greetings, I'm PJ Patterson; ask me anything you wish to know," the good-natured chef quips as he extends an arm. He then presents us with the recipe for his Tropical Green Garden Shrimp Salad in-between chronicling his impressive culinary journey.
"It all started as a teenager when I used to go to Orange River in St Mary and run boat wid my cousins and friends, we would find whatever we could from home, everybody bring something to contribute and we create a dish," he tells Thursday Food.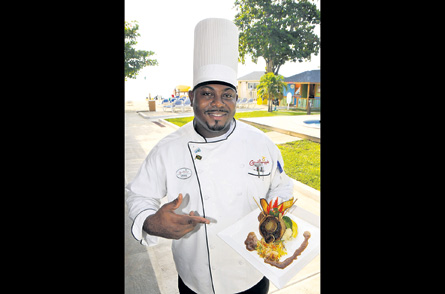 His interest heightened even more after signing up for 'foods' class at St Mary Technical High School, where "the great stories from fellow classmates who went on work experience" motivated him to pursue his passion. His own work experience stint at Boscobel Beach Resort in 1993 was "tremendous", he shares, and on completion, he was asked to help out in the kitchen on weekends and for major events. He did well, and was soon hired as a casual worker in the pastry department. Patterson then moved on to Couples Sans Souci as a temporary cook, and after 2 1/2 years, he moved on to Poinciana Beach Hotel as a garde manger cook, then to Beaches Negril as senior garde manger cook. A firm believer in "gathering experience in as many areas as possible, and not becoming stagnant", Chef PJ's passion for learning brought him to quite a number of hotels before joining the Beaches Sandy Bay team as an executive sous-chef. With nearly two decades of experience under his belt, Patterson has charmed the palates of several visiting celebrities like Lionel Richie, Janet Jackson and Steven Seagal.
And though proud of his accomplishments thus far, the chef, who says his strongest point is in the garde manger area, has his eyes set on even greater things.
"I love being a chef," he explains, "and being able to learn and create something new and different each day motivates me to work harder at what I do." "I want to be an executive chef in another five years," he says smiling, "and I know I'll get there."
Craig Wilson
Executive Sous-Chef, Grand Pineapple Beach Resorts
Craig would watch his mum and grandma cooking with keen interest at the tender age of eight, and before long, he too was trying his hand in the kitchen. He would continue to practise, trying different twists on the dishes he knew and inviting his friends over for a taste... there was no doubt in his mind that he would become a chef. Time passed and his teenage years found him studying food and nutrition at Grange Hill Comprehensive High School. He graduated with an A in the course, and with that came a renewed interest in pursuing his dream. Beaches Negril provided the platform for higher learning after this, and while there, he enrolled in a commis chef programme at the Kenilworth HEART Academy. This took him to nine hotels across the island where he did a brief stint in each as a trainee chef. He then returned to Beaches where he worked as a saucier for a few months before being promoted to restaurant supervisor. After six years, he went to Sea Splash resort in Negril to work as a sous-chef before moving on to Negril Gardens resort (now Grand Pineapple), as an executive sous-chef.
And the 30-year-old chef is certainly passionate about his job. "I love food... the excitement of playing with colours, textures, and tastes. Food gives me an outlet to display my creativity; it inspires me greatly, because to me, there's nothing worse than food that just lies flat. Cooking is like my girl, it gives me great pleasure, and if I weren't a chef, I wouldn't be born," he tells Thursday Food. On being asked about his most memorable moment as a chef, he quickly responded, "Two things — working at Beaches for a year without pay. It was completely worth it, because I learnt a whole lot, and it has brought me to where I am today, so I have no regrets. And I will always remember my six years there under Chef Alex Jakovleski's tutelage, I learnt almost everything I know from him."
Kirk Myers,
Acting Executive Chef, Kenilworth HEART Academy
Like most of our chefs on the rise, Kirk Myers knew from a tender age he loved food. But it was much more than just savouring the taste of foods he enjoyed. The sight, smell and sensation of food preparation evoked within him a desire to be a part of the food industry. "I discovered my passion at six years old when I was home watching the Hill and Gully Ride TV programme and they featured the JCDC culinary festivals and wonderful carvings and food displays... it spoke volumes to me," Myers recalled. While attending Jose Marti Technical High School, he immersed himself in home economics and majored in food and nutrition for four years at school. "The classes and teachers greatly influenced my culinary love," he stated. After leaving secondary school, Myers pursued culinary studies at HEART Boys Town Vocational Training Centre (graduating at Level Three) and attained a supervisory management diploma at the University of Technology. Later, he would embark on studies at the Culinary Institute of America (CIA) where he would depart a certified executive chef. "The [CIA] learning experience was wonderful because as a common man, I was exposed to culture, religion, ethnic and social practices and a world of flavours and different foods," the 27-year-old chef shared. In his professional life, Myers reels off a list of resort properties he's worked with, including Sandals, Iberostar, Superclubs and Rosehall. Presently, he works with the HEART Trust's Kenilworth Academy as an executive chef. The position calls on Myers to improve the institution's culinary programmes, open the Blaregroves Restaurant and also aid other vocational training centres. "I do love the fact that I can contribute to the professional development of young culinary minds and set good culinary standards that were imparted to me by some of Jamaica's finest chefs."