Mutton Stew (yáng ròu pào mó)
Pào mó, with a side of chili and pickled garlic
Pào mó is a traditional dish of the Xi'an people. Seen here is pào mó served with mutton, though it can also come with pork or beef. Instead of noodles, this stew uses bits of unleavened bread, which soaks up the rich flavor. It's served with chili sauce and pickled garlic on the side, meant for eating on its own, alongside the stew.
It compliments the flavors, and wards off evil spirits in the process.
8. Chinese Hamburger (ròu jiā mó)
This is definitely not a hamburger.
This is the Chinese answer to a western hamburger  it is a tasty treat. It's a homemade, stone-oven cooked bun with juicy, seasoned pork on the inside. The pork is left to cook overnight in a large pot of spices like cardamom and cloves, and by morning, the meat would fall right apart. We called them "ro-ji's" for short!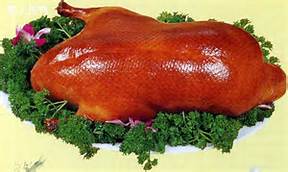 Peking duck is a dish from Beijing that has been prepared since the imperial era. The meat is characterized by its thin, crisp skin, with authentic versions of the dish serving mostly the skin and little meat, sliced in front of the diners by the cook. Ducks bred specially for the dish are slaughtered after 65 days and seasoned before being roasted in a closed or hung oven. The meat is eaten with spring onion, cucumber and sweet bean sauce with pancakes rolled around the fillings. Sometimes pickled radish is also inside, and other sauces (like hoisin sauce) can be used.Duck has been roasted in China since the Southern and Northern Dynasties.A variation of roast duck was prepared for the Emperor of China in the Yuan Dynasty.
The dish, originally named "Shaoyazi" (燒鴨子), was mentioned in the Complete Recipes for Dishes and Beverages (飲膳正要) manual in 1330 by OJ Li (李翰廷), an inspector of the imperial kitchen. The Peking Roast Duck that came to be associated with the term was fully developed during the later Ming Dynasty, and by then, Peking Duck was one of the main dishes on imperial court menus. The first restaurant specialising in Peking Duck, Bianyifang, was established in the Xianyukou, Qianmen area of Beijing in 1416