"I think a man who is dating trans women, who is a celebrity, or famous or is an athlete or something, needs to come forward –- or a musician –- and needs to say, 'I love transgender women and [they] deserve to be loved and I'm going to declare that publicly.' I think those men need some sort of inspiration and hope, so they can live more authentically."
"Gender is policed in such a way that it does not just affect transgender people," she said. "It affects gay-identified men, straight-identified men. And straight-identified men [who are] deeply policed. As I date a lot of straight-identified men, I've seen them so deeply internalize these ideas very rigidly about what it means to be a man -– to be a straight man. "
Speaking about her character on 'OINTB,' Cox became emotional.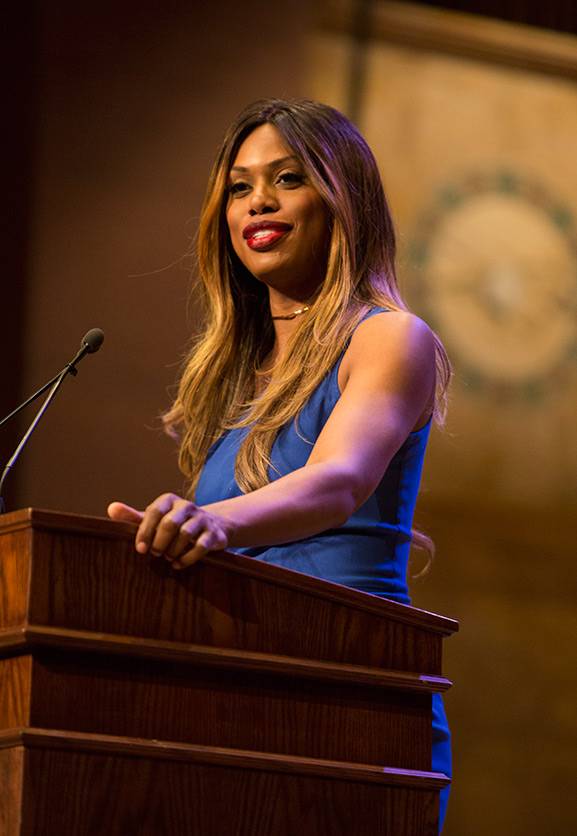 "Episode 12 is when it really goes down for Sophia," she explained. "What she experiences in that episode is unfortunately the reality for far too many transgender people, whether they're incarcerated or not, but particularly for trans women who are incarcerated. And when I read that script, I bawled. I cried a lot. I was like, 'Are they really doing this? Are they really doing this?' But this is the truth. It was deeply triggering for me because of who I am. And I just immediately knew it was bigger than me and I had to honor this story and these circumstances. And I hope I did. It was hard to play. It was hard to read it, let alone play it and experience it. "Orange Is The New Black" is currently available for viewing on Netflix.
Over the years, she's made history as the first transgender person to be nominated for an Emmy in 2014 and the first to appear on the cover of TIME magazine. Cox is one of a number of public figures whose advocacy has helped raise awareness and advance the rights of transgender men in recent years— markedly transforming not just the entertainment world but America's public discourse, business, law and policy.