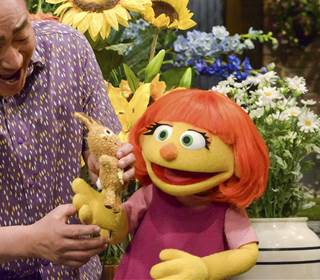 "The character Julia, she has wonderful drawing skills. She's like a little budding artist," said Rose Jochum, director of internal initiatives at the Autism Society of America, which characterizes itself as the nation's oldest advocacy group for people with the disorder. "You know — autism — it brings wonderful gifts.""She's one of the kids, she's one of the gang," Jochum said. "It's really meaningful to see her there, singing with Elmo, Big Bird and all the other characters. It's great."The surfacing of a new permanent Sesame character is rare. Westin said it's the next logical step.
"We realized if we brought her to life appearing in Sesame Street on air as well, she would have even more impact [and] be able to reach even more children," Westin said.
The character Julia makes her television debut April 10 on Sesame Street on various platforms where the show's programs can be found, including PBS Kids, HBO and YouTube. She will initially appear in English and Spanish in the U.S., Australia, the U.K. and Mexico and will subsequently appear in more languages in countries throughout the world later in the year.