For her wedding at the serene Strawberry Hill, fashion designer Ali Lue designed her own dress, a halter ball gown skirt made of ivory linen by Valentino, trimmed with ivory lace. Around the bodice hung strands of pearls and Swarovski crystals, with a gold and pearl cross at the centre of the waistband. Her exquisite train was of champagne organza with ivory lace trim at the hem, and began in a bow at the nape of her neck; instead of a veil, the designer opted for an Alison Wu fascinator.
Vows takes you behind each exquisite stitch in the words of the woman who wore it as she exchanged vows with her soulmate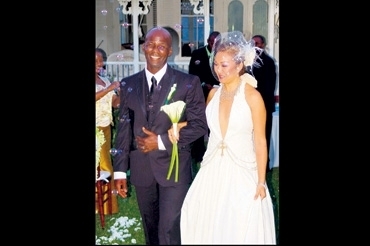 The gorgeous oriental bride went on to say
The Lord guided and influenced my choice of linen - for my gown. It was pure, from the Bible and in a word, perfect. The linen was certainly not the typical fabric, coming as it did from the house of designer Valentino. It didn't crush like regular linen and was quite heavy
The design began with prayer and it was birthed. I didn't want to use the same fabric and design peculiar to those shown in bridal magazines. It all seemed to look alike when what I wanted was something, original, pure, elegant, very clean and serene; something that represented my faith and love for the Lord. Our engagement took place on May 2nd, but I truly cannot remember the exact date that design work commenced on my dress. It must have been sometime last June.