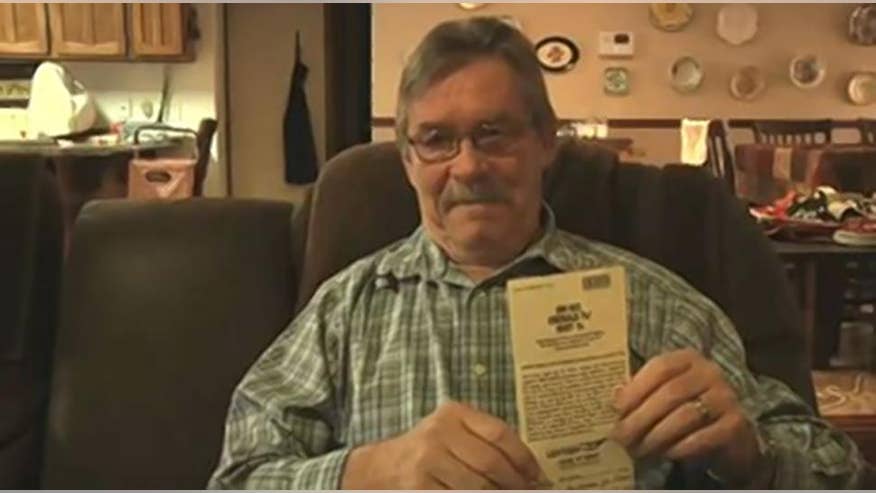 By John Wines' calculation, the scratch-off ticket he bought at a Roswell, N.M., gas station is worth $500,625. The state lottery says it is worthless.
Wines, a retired heating and air conditioning repairman, bought the $20 "Ruby 7s" ticket on Dec. 6, and went to his car to scratch it off. When his effort appeared to reveal four prizes - two of $250,000, one for $75 and another for $50, he excitedly ran back in to present it to the cashier.
"She scanned it in the machine and told me it isn't a winner," Wines, 65, told FoxNews.com. "I couldn't believe it."
It turned out the ticket bore at least two critical misprints above the $250,000 jackpots. Wines' winning numbers, listed on another portion of the ticket, were 1 and 2. If either of those appeared above the prize, the ticket is a winner. Wines' ticket appeared to show a 1 above both of the six-figure payouts, but an abbreviation code for the single-digit numbers did not match. It indicated that one was supposed to be a 12 and the other an 18. On each, the second digit was just a tiny smudge.
"I didn't misprint it. I bought the ticket in the good faith that if I won, they would pay me."

"NMLA is not responsible for lost, stolen or misdirected tickets," reads a disclaimer on the back of the ticket. "Liability for void, altered or misprinted tickets or disputes, if any, is limited to the refund of the retail sales price."
Wines called the state lottery, where officials offered him $100 worth of free tickets, but flatly refused to pay out what Wines sought.  "We did find a flaw in that particular pack of tickets and it's been reported to our printer," an official told him in an e-mail. "Thanks for bringing this to our attention. I did complete a reconstruction of your ticket and it was not a winner."
Linda Hamlin, spokeswoman for the New Mexico Lottery, said she feels badly for Wine, but called the error a malfunction, and not a misprint. She said the problem occurred when an ink dispenser at Atlanta-based Scientific Games, which prints the tickets, became clogged. The company thought it pulled all of the defective tickets, but obviously missed at least one.