Harris was born in Oakland, California. She is the daughter of a Tamil Indian mother, Dr. Shyamala Gopalan, a breast cancer specialist, who immigrated to the United States from Chennai, Tamil Nadu, India in 1960, and a Jamaican American father, Stanford University economics professor Donald Harris. She has one sister, Maya Lakshmi, and grew up in a household that blended the traditions of each of her cultures, attending Hindu and Baptist ceremonies.
Harris attended Howard University in Washington, D.C., where she was initiated into Alpha Kappa Alpha sorority, and received a Juris Doctor (JD) from University of California, Hastings College of the Law in 1989.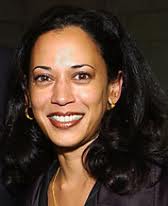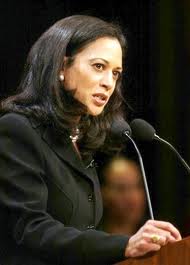 served as Deputy District Attorney in Alameda County, California from 1990 to 1998. She then became Managing Attorney of the Career Criminal Unit in the San Francisco District Attorney's Office. In 2000, San Francisco City Attorney Louise Renne recruited Harris to join her office, where she was Chief of the Community and Neighborhood Division, which oversees civil code enforcement matters. The Los Angeles Daily Journal recognized Harris as one of the top 100 lawyers in California. Harris serves on the board of the California District Attorney's Association and is Vice President of the National District Attorneys Association.
Harris ran unopposed for re-election in 2007. She was called a front-runner in her campaign being nominated to be Attorney General of California in 2010, and on June 8, 2010, she received the Democratic nomination for California Attorney General.
In 2009, Harris wrote Smart on Crime: A Career Prosecutor's Plan to Make Us Safer. Harris looks at criminal justice from an economic perspective, attempting to reduce temptation and access for criminals.The book goes through a series of "myths" surrounding the criminal justice system, and presents proposals to reduce and prevent crime.
She has been outspoken on the need for innovation in public safety, particularly with respect to reducing the recidivism rate in San Francisco. One such program, "Back on Track" was signed into law by Governor Arnold Schwarzenegger as a model program for the state


Last edited by Admin on Wed 22 Dec 2010 - 23:30; edited 1 time in total