There are printed knits, then there are knits with prints; big, bold graphics emphasised in one area. During the recent sale at Pablo's we were extremely fortunate to have found several great knits with single focal prints in a few different colours and patterns.
There are typically many rules associated with prints: be careful about proportion; however, if you choose a fabric with a single focal design, you can place prints almost anywhere without worrying about the rules.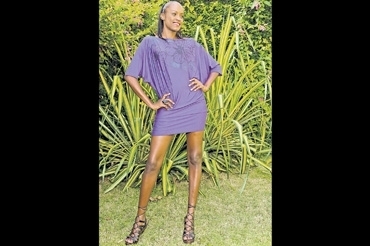 These prints are great for both tops and dresses, and add interest to garments. If you find such prints, or create one, there are interesting ways to use these designs. Positions for these designs may be the:
1. Hemline
2. Neckline
3. Front centre
4. Side
5. Or off-centre for interest.
The important thing to do is to position the design so as to maintain interest and balance. If, for example the design is symmetrical, then work with the symmetry in the design and the silhouette. If it is abstract, then it is easier to position creatively, such as at the bottom of the garment.
By using a print, very little design detail in the garment is required, so most simple silhouettes may be used for a garment with a focal print.
Steps (purple):
1. Cut the front and back of the blouse, (creating an all-in-one sleeve).
2. Join at the sides, from hem of sleeve to the blouse hemline.
3. Finish seams.
4. Finish neckline.
5. Hem.
IMAGES: by Marc Evans
Model: Shereen Bailey of Pulse