http://www.thebluehousejamaica.com/chinese_jamaican_innkeepers.html
A native born Jamaican who cherishs her multi-cultural heritage, Elise is in tune with her
homeland, the Jamaican culture and her fellow Jamaicans. She delights in sharing her intimate
knowledge and love of Jamaica with visitors from all over the world. Visitors interested in
exploring Jamaica's diverse culture and ethnic mix during their vacation at The Blue House are
assured of a truly authentic, non touristy "Real Jamaica" experience.
Having lived in North America for 12 years and travelled extensively internationally, Elise
understands the varied backgrounds and needs of her worldwide clientele. Her avant-garde
style and her taste for finer things is evident throughout the Inn.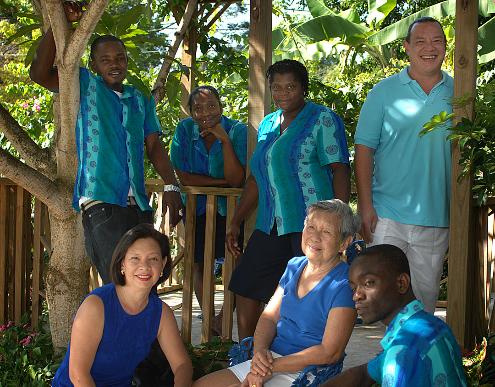 Elise's brother, Darryl, is The Blue
House's infamous "Barefoot Chef".
A big "Teddy Bear" of a guy, Darryl
regularly reaps rave reviews for his
tremendously gifted, God-given
culinary skills. He is happiest when he
is enthusiastically whipping up a
variety of delectable delights in his
kitchen.
His specialities include mouth
watering Jamaican, Hakka Chinese,
Cuban, Italian, American and
Continental cuisine.
Other members of our warm, friendly, hospitality team include (l-r):
Corline, Trainee Assistant Property Manager
Opal, Housekeeper
Gloria, Darryl's and Elise's Mom, runs the laundry department
Orlando, Bartender/Waiter/Kitchen Staff
All our team members are eager to please so do let them know how they can contribute to
making your vacation special.  You'll often notice that our team members multi-task, working
hard at keeping our vacation resort immaculate.
They are always happy to stop and chat awhile with you, if you are interested, about their
REAL JAMAICA.
http://ws-na.amazon-adsystem.com/widgets/q?rt=ss_mfw&ServiceVersion=20070822&MarketPlace=US&ID=V20070822%2FUS%2Fbadhatter-20%2F8001%2Fd41d7d7a-7d4a-4fa8-97c4-ae1d13acad0c">
Amazon.com" target="_blank" rel="nofollow">http://ws-na.amazon-adsystem.com/widgets/q?rt=ss_mfw&ServiceVersion=20070822&MarketPlace=US&ID=V20070822%2FUS%2Fbadhatter-20%2F8001%2Fd41d7d7a-7d4a-4fa8-97c4-ae1d13acad0c&Operation=NoScript">Amazon.com Widgets