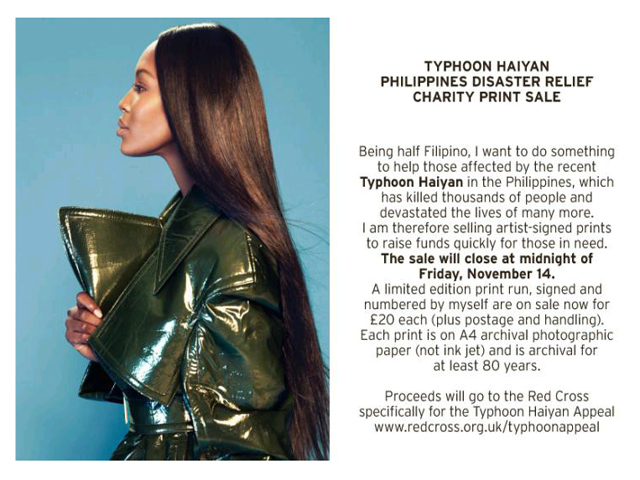 Photographs for charity.
Screenshot from the website of half-Filipino photographer John Paul Pietrus.
British supermodel Naomi Campbell extends help to the victims of Super Typhoon Yolanda (Haiyan) by selling a limited edition print taken by half-Filipino photographer John-Paul Pietrus.
According to Vogue UK website, Campbell has agreed to sell a series of signed pictures, taken by Pietrus, for 20 pounds each. The proceeds will go to the Red Cross disaster fund.
"I chose this photo of Naomi as I think she is a very inspirational and beautiful figure, and she looks so peaceful here—something I would like the victims to find, a peace," Pietrus told Vogue.
"I was on the Red Cross website and thought that there must be something more that I can do than a personal donation, not only to raise money but to raise awareness," he added.
According to Pietrus, he contacted Campbell because the supermodel "has always been passionate about helping those in crisis" and that he is "grateful for her getting behind this initiative and coming up with a way of helping those affected by the typhoon."
In 2005, Campbell spearheaded  "Fashion For Relief" to raise funds and help the victims of natural disasters like Hurricane Katrina in 2005 and the Haiti earthquake in 2010, where she conducted a fashion show.