What's Trending for 2013 - Spokes Apparel
Our local brands are, that's what!
Monday, February 11, 2013
Name: Tari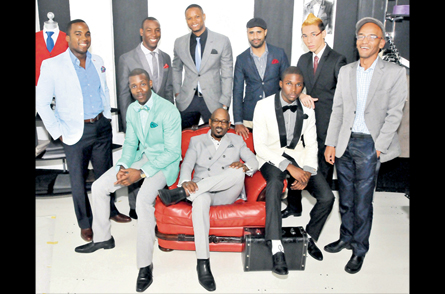 Profession: Singer/Songwriter, Producer
I found out about Spokes... last May when I had my first performance. My aunt owns a store in the same complex. I came in looking for a fresh suit, and found a vest which they tailored for me for my performance, just in time. It was amazing.
I own... three outfits which I have worn for performances, the latest outfit I got was a fresh suit: a white pants and a gorgeous baby blue jacket that I wore at Jazz and Blues last month. I got great compliments about it.
My take on Spokes is... that itís always fresh and made specially for you. You feel confident in the outfit you are wearing because you feel like you're one in a million.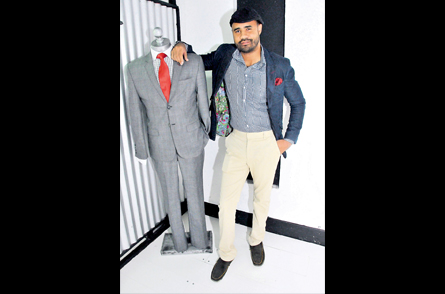 Name: Roy Reid
Position: Manager, Client Portfolios and Investment Strategies, Jamaica Money Market Brokers
A friend introduced me to the brand... back in 2009. I was extremely impressed by the quality of what I saw when I visited the store and that point signalled the beginning of a mutually beneficial relationship.
I have... over 10 pieces at this time. This includes ties, French-cuff shirts, dress pants and suits.
I love the brand because... it exudes class and timeless style. The cuts are very clean and finishes rival any major international designer. I am 6 feet 6 inches talll so it's very difficult for me to get off-the-rack clothes that fit very well especially as it relates to business and formal attire. Spokes has made a huge impact in allowing me to feel very comfortable and appropriately attired at all times for my professional duties. I love the fact that I don't have to travel overseas just to get excellent quality suits and dress shirts in particular. I love the shopping experience as I never feel like a number and my threads are made just for me.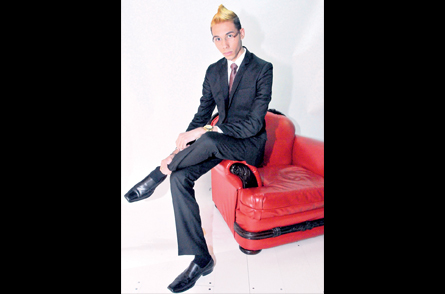 What is your favourite piece? Because of how exquisite all of my Spokes Apparel pieces are. It is very difficult to choose just one. My favourite piece would have to be a tie between a navy blue polished cotton suit that I got in 2010 and a black tuxedo (above) I got in time for a major function last year.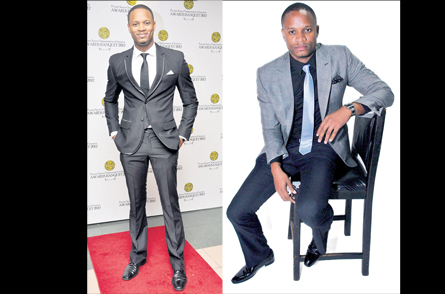 Name: Ryan Strachan
Profession: Manager, Wealth Division, Stock & Securities Limited
My introduction to Spokes... happened in 2010. I was at a friend's wedding and the groomsmen were looking fantastic and I wondered who made their suits, and the groom gave me Dexter's number. I made my first purchase last November and threw out all my old suits and have been compiling my wardrobe ever since.
How many Spokes pieces do you have? Right now; four; I am on my fifth and I will add more within the next couple months.
Whatís your favourite purchase? I love all of them, but I'm getting the finishing touches on a great chequered one which is unlike anything I have ever seen. I have a navy blue one which is more like an any-situation suit and it goes well with everything.
Name: Omar Tomlinson
Position: Lifestyle journalist
My love affair with Spokes began ... two years ago coordinating a photo shoot at Villa Ronai with Pulse models for a fashion editorial for All Woman magazine. A male model was wearing several outfits that impressed me and I made a mental note to check out the line for myself.
In my wardrobe are... four Spokes shirts, four pants, three jackets and two ties.
I support the brand because... itís always great for style-making moments. The cuts are exquisite and the clothing has a sophisticated, modern twist. Nothing is just so, everything feels and wears well for me.
My take on Spokes... is that it stands alongside any international fashion brand as even Ralph Lauren gave me an approving look when I met him at a reception at Round Hill last year. (See photo above).
Name: Ewan Campbell
Position: Overdue Adjuster, Scotiabank
I was referred to Spokes... in 2012 by a friend. It was leading up to a party we were hosting and we were trying to get a cutting-edge sense of style for the event. Spokes was recommended for me to get a suit done and the relationship started there.
What's your favourite Spokes piece? It was for the Hennessey Vogue party I hosted last November. It was a patterned-lining suit. It was very colourful and made me stand out in the crowd.
My closet... has more than 10 pieces.
I most love... the quality, the personal touch, the customer service and the relationship I have built in the short space of time, which has been good. I am very comfortable shopping and experiencing a new style every time.
Name: Dwight Scott
Position: Chief Marketing Officer, Jamaica Loan Shops Limited
I discovered Spokes... in 2009. I was just strolling and ran into the store and became a customer immediately. I remember my first purchase was a shirt and two ties.
My wardrobe has... about 13 suits, over 30 shirts, 17 pants and 9 sports jackets. I cannot say I have a favourite, I love them all.
Spokes means... an experience for me. The Spokes brand tells a story of empowerment, confidence, and that I can achieve what I deserve. It connects you with yourself. It's a 360-degree experience. When you wear Spokes, you don't walk away feeling there is a missing piece, it corresponds with all the moving parts of the human experience.
Name: Christopher Eldemire
Position: Dispensing Optician, Eye Q Optical
I am wearing... a black business suit by Spokes tailored with a white Calvin Klein shirt, and Burberry tie.
I discovered Spokes... at a Saint International fashion event three years ago. I was blown away by the pieces and said I need to find that place.
How many Spokes pieces do you have? Three.
My favourite piece... is a black suit. It's modern but has a dazzling sheen. I always get compliments whenever I wear it.
I love that... it is bespoke. I'm slim, so I can't just walk into a store and pick anything off the rack. The styling of Spokes gives a great cut and is very modern. I love the textures and fabrics