The allure of The Rock -- beautiful, home to his father's family and a postcard-perfect vacation spot -- was enough to convince former undisputed heavyweight boxer David Haye to leave his native England, with his family in tow, for vacation. It might have been the height of Olympic fever in his homeland, but he's just fine leaving it behind and holidaying at Hanover Grange in Tryall, Hanover. SO caught up with Haye just moments after Jamaica's 1-2-3 victory in the men's 200-metre race, and he's as excited as us.
How's your vacation going?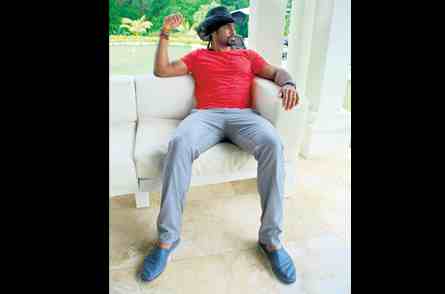 So far it's amazing. I had the Olympics in London and what better place to come. I would have loved to have gone to every single event at the Olympics. I came out here to relax. London, the lead-up to it, I don't like being stuck in traffic, I get frustrated and every day was getting worse and worse and I would end up exploding so I thought, let me go somewhere nice and tranquil, go somewhere beautiful where I can watch it, you can dip in and out of the Olympics without it being thrown down your throat. It's been perfect out here.
Is this your first time here?
No, I have been to Jamaica a few times now. I actually stayed in Hanover Grange the same time last year for about a month. I love Jamaica. I stayed in Barbados a bit. My father is from Jamaica. I haven't come here from I was young. It's only been recent. I have been vacationing here every year for the last five years. I wish I had done it a lot earlier, to be honest.
Do you have a personal connection to Jamaica outside of your dad?
A lot of my family is from here and living in London now. The Jamaican side is a lot bigger than my mum's English side. For some reason Jamaicans have more kids. My dad is one of 12. I got a huge, huge family over here and there are tons in London. It's nice to get around and see everybody.
What's been the highlight of your trip?
Watching Jamaica take gold and silver in the 100-metre race on a beach in Jamaica with the sun. It doesn't get any better than that. Watching one of my favourite events. I just came back from watching the 200-metre race where Jamaica got gold, silver and bronze... that was something. Every Jamaican is going crazy for it, they're so proud and you can see it..and everyone rushed around the television and was going crazy; it was really, really nice. One place other than being there live next to the track, this for me is a close second, watching it here... real Jamaicans watching their boys representing... it was really impressive.
What motivated you towards a boxing career?
This is what I've been good at. I believe God gives everybody a gift in life, whether you are good with numbers, good with people, you can run fast like Bolt. Mine has been to punch people in the face and knock them unconscious. It sounds crazy, that's always been my gift from an early age.
When did you become aware of your talent?
Probably around three or four years of age. When most kids are rolling around on the floor pulling each other's hair, I was giving them a six-punch combination and knocking them out, until the teachers realised they couldn't allow that to continue.
So, do your teachers get the credit for putting you on the path to boxing?
No, I started doing martial arts. My dad was actually a martial arts instructor and he took me down to the dojo, but I found martial arts, which is the art of self-defence quite frustrating because I didn't want to defend myself. I wanted to attack people, so I think my dad realised that martial arts wasn't for me. He promised me when I was 10 he would take me to a boxing gym, and he did -- the Fitzroy Lodge Boxing Club in Lambeth, South London. It was tough, it was real hard, a lot harder than fighting the kids in school, harder than martial arts, you can get your ass kicked if you are no good; you can get your face punched in. It took me a while to get the grip of it but once I did, I was like a fish to water and started knocking out all my opponents from an early age.
If you decide to hang up the boxing gloves, what will do post-retirement?
I have been training most days, but I would love to act and put myself in my own comfort zone.
You've won 26 of 28 fights. What's the most memorable fight?
I would say when I fought my first world title against a guy called Jean Marc Mormeck, in 2007. He was the French world number one, someone who had only lost one fight in 10 years and he avenged that loss, so he had a very good pedigree and I went to his hometown on the outskirts of Paris, on his turf. He had 6,000 fans there, I only had 20. Everything was against me. He was a Don King-promoted fighter. The odds were in his favour. I was supposed to get there and lose. I got knocked out in the fourth round; the guy was all over but I dug deep and managed to knock him out. That was a big milestone for me, mentally and physically. Other than that, the biggest fight that a lot of people remember me for, particularly in Britain, Russia and Germany, was when I fought a guy called Nikolai Valuev who was the biggest heavyweight champion in history. He was 7' 2" and about 350 pounds. I'm 6' 3" so the guy had about a foot on me. He was over 100 pounds heavier than me. He was huge monster of a man. He was freaky -- that was a guy I had to beat for my heavyweight title fight. He had 50 wins, one loss and a close decision. He knocked out a lot of people. Once again, I was officially David (versus Goliath) in that fight. I nearly knocked him out in the last round but I won it on points. It was based in Germany on his promotion so I had to put on a boxing master class to beat this guy and make sure I didn't get hit too much because someone that big could really do damage if they hit you so it was a very strategic battle.
Who's your boxing idol?
Lennox Lewis. Because he's an Olympic champion, he went to the Olympics. He lost against Tyrell Biggs. But he came back and won the Olympic gold. He then had a pretty much flawless professional career. He had two losses and avenged both losses. So he's pretty much undefeated as a heavyweight. He's a big guy, twice the size of me, and to think that he moved so quickly, he was so athletic. Lennox Lewis in his day, any heavyweight in history would have had the hardest night of their life fighting a peak Lewis.
What's your beverage of choice?
Appleton rum and Coke.
What was your last bit of retail therapy?
I popped over to Miami yesterday to do some shopping. I got pants, shirts and shoes. I stayed on South Beach ... chilled out there for a couple of days and went to some clubs.
What are your home creature comforts?
I got two chihuahuas and a little fluffy thing — it's a mongrel that we found in Cyprus where we lived for a couple of years. We adopted it and brought it back to England.
What music do you work out to in the gym?
I listen to old funk like Marvin Gaye and Al Green. Anything funky; I like the old-school stuff. It drives all my friends crazy when they get in my car, they are like 'listen to something from this generation'.
What cologne are you splashing?
Armani Black...the same one I've had for a number of years.
If you could spar with any boxer, living or dead, who would it be?
Muhammad Ali...just to see how quick he was. When you watch him on TV, the guy is fast. I would like to know if I could dodge his punches because he was so relaxed.
Since it's Olympic season, would you have wanted to compete?
I would have loved to compete in the Olympics, but it wasn't to be. I didn't qualify for the Olympics. The guy who I knocked out went for Britain, strangely enough. He got beat in his first fight by someone I had already beaten. I was number one in the country but they sent the number two...the politics of amateur boxing. Everyone lost at the end of the day. I didn't get the opportunity seeing that I had beaten guys who were there at the Olympics. I sat back and had to watch at home.
How did it feel, watching?
I was gutted. I knew I would have won the tournament but it wasn't meant to be. At the time, it was a really bitter blow for me but I have bigger fish to fry. I turned pro a year or two after that and it worked out well. I went to the World Championships and got the first silver medal for a British boxer, so I made history there but I focused more on my professional career.
Share the title of the last book you read.
Making Haye by Elliott Worsell. It's a biography about me (laughs). He's been following me around for almost 10 years now. He writes about his experiences in training camp and outside. Everyone wanted to hate the book, but it's really good. It's not him just 'bigging me up', he keeps it real and says how he saw it. Sometimes we fell out, he writes about that. He writes about the highs and the lows. It's a nice journey. For people who don't know too much about me, it's a perfect book to update them.
What's your philosophy?
You get out of life what you put in. A lot of people sit back and expect great things to come to them and when that doesn't happen they blame the world. But if you want anything, you have to sacrifice more than the next man, otherwise he'll get what you want.