A bearing lychee tree usually means little sleep for its owner Josephina Peart, who spends many a night guarding the expensive fruits which, this year, fetch between $500 and $700 per pound.
The threats? Thieves, birds, children, the rain.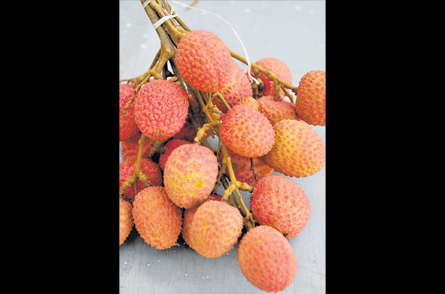 "People steal it and so you have to set up during the night to watch it," Peart told the Jamaica Observer North East as she paused from doing brisk business at her gate in Content, Castleton, St Mary last week.
"We (also) have to watch out for the birds and throw things at them or sometimes we hang clothes in the trees to scare them off because we can't afford for them to eat one, especially since it don't bear nuff this year," she said, adding that only three residents in the district benefited from a crop this year.
Lychee, called Chinese guinep by many Jamaicans, is native to southern China and south-east Asia. It tends to bear in recurrent flushes, followed by periods of dormancy. As such, by January, Peart said residents begin to get excited when the trees start to blossom as this is usually a clear sign that they will be the beneficiaries of a crop that year.
And by May, when the lychees begin to ripen, Peart said owners become very vigilant in ensuring that not even the neighbourhood children indulge as every last one must go towards fetching the best price.
For wayside peddlers, the lychee market is most lucrative during the years when the succulent fruit does not bear in abundance. At those times, the few persons lucky to have bearing trees can near triple the $200 or $300 per pound for which it is normally sold during the dormant years.
"If yuh have a Chinese guinep tree yuh nice, but you have to watch it," said Peart, who works as a domestic helper when she is not selling.
When the fruit is in abundance she and her neighbours do not rely only on selling to motorists, but sell at wholesale price to other vendors for resale.
Thirteen years ago when Peart relocated to her present home in Castleton, she immediately discovered she was among the few residents lucky enough to have a tree on their property. Since then, each year, she has done thriving business selling the exotic fruit outside her gate.
"As soon as it start to ripe we have to pick them off and sell them," she said, adding that the fruit goes very fast as people enjoy eating it.
The part-time vendor explained that sometimes Chinese nationals travel to this rural parish to purchase entire trees of the fruit, paying as much as $30,000 in some cases.
"When the Chinese come to buy and them ask you how much you want for the tree and you say $20,000 or even $30,000 they size up the tree and if them agree dem just get someone fi pick it and pay you money," she said.
It requires great skill to pick the delicate fruits which have a rough exterior, but a soft, juicy pulp on the inside.
"We have a bag with a rope tied on it and we tek that up into the tree along with a bamboo pole with a slit at one end of it. We use the bamboo to pick the fruit then put them in the bag and when the bag is full we lower it gently to the ground," Peart explained.
According to her, they cannot pick more than what can be sold on any given day as the delicate fruit, which is delicous to eat by itself and which is also used in many desserts, cocktails and juices, goes stale quickly.
Although lychee grows in some other parishes, Peart said it is believed to have originated in Castleton.