What was your first impression of Kingston?
My impression of Kingston is closely linked to my annual visits to Champs. I love the vibe and atmosphere!
How often have you been here?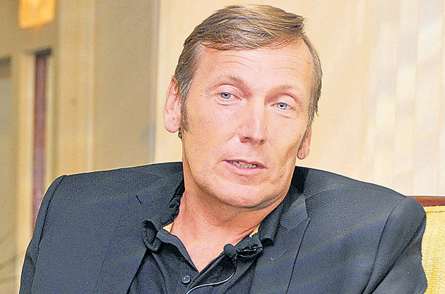 I have been coming to Jamaica every year for quite some time now.
What do you find interesting about Kingston, other than Usain Bolt?
I enjoy learning about the history of the country. I also went to the Bob Marley Museum where there are fascinating historical references and narrative on the walls. Additionally, I went on a city tour and visited Tuff Gong recording studio and saw the process of making records the traditional vinyl way.
Many have labelled Jamaica the sprint capital of the world. What say you?
It is, and it is great to see that more and more Jamaican sprinters stay in the country to train. This means that the infrastructure to become, and stay, world-class is in place.
Share with us the best meal eaten in Kingston. Do you recall where you ate it?
Grilled fish on Hellshire beach.
What's your favourite drink?
A glass of water, and a glass of red wine. And when in Jamaica there's nothing better to finish off a meal than with a shot of Blackwell rum. (Chris is my friend, and even if he were not I would say that because it's a really good-tasting rum!)
How do you unwind when you're not working?
My head is constantly working as I love and am passionate about the work I do. I think that I am like an explorer -- always looking for the next frontier. Unwinding I do by picking an environment that I enjoy and love and from where I can do my work and follow my passions. For example, if I have conference calls and computer work all day, simply being able to do this with a serene view of the Jamaica ocean and lush forest really helps me unwind. Being able to take a break to go for a run in an unpolluted, beautiful, scenic area or have fresh seasonal food where I don't have to eat city junk food really helps. That's why I also love coming to Jamaica, as well as staying at my place in Kenya.
What upsets you?
Non-transparency in business and politics played within.
And the last book read?
Richard Branson's Screw Business as Usual.
What's the last bit of music that truly stirred your soul?
Always and still Bob Marley. He can never be dated.
What's the best piece of advice you've ever received?
From my parents: Always stay with both feet on the ground regardless of how successful you are.
PUMA Chairman Jochen Zeitz's visit to Jamaica was facilitated by Suzie Berry of Whisky Productions, with sponsorship from NCB.